How Would It Feel to Be an Innovator?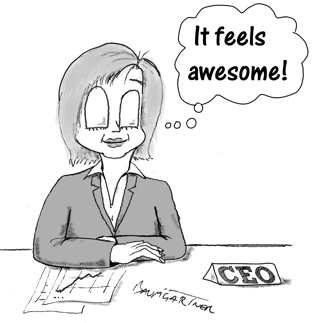 How would it feel if your team consistently not only came up with more creative ideas, but implemented more of them? How would it feel if your company was recognised as a leading innovator? How would it feel if your colleagues were able to solve challenging problems with creativity?
If any or all of those things would feel good, check out my services or just get in touch and let's talk about how we can make your company more innovative and your people more obviously creative.
---
Innovation Man to the Rescue
"Our innovation programme was going nowhere. We we collecting ideas from our suggestion software, from brainstorms and from creativity days. But the ideas were not that impressive and we hardly implemented any of them. I started to feel my colleagues we not taking me seriously.
I knew Jeffrey from Report 103 and gave him a call. He grasped our situation immediately and helped us redesign a more realistic and effective innovation system focused on implementation rather than idea collection." − Innovation Manager, Global Petrochemical Industry
---
Conventional Innovation Consultant vs Me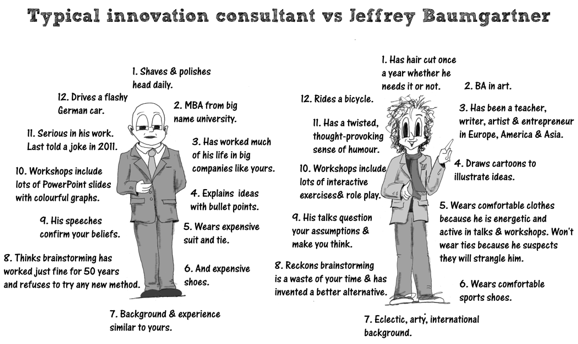 Yeah, I know I look more like an artist or musician than a businessperson. And I am not at all your typical consultant. But think about it for a moment. If you want someone to help bring out the creativity of your team and encourage new ways of thinking, do you want a typical consultant who has a background similar to yours, works in similar companies to yours and thinks a lot like you do? Or would you rather have an eccentric, arty guy who comes up with outlandish ideas on a regular basis? If you prefer the former, I suggest you pop over to Google and look for a more conventional consultant than me. But if you really want to get creative, you need someone a little bit crazy.
---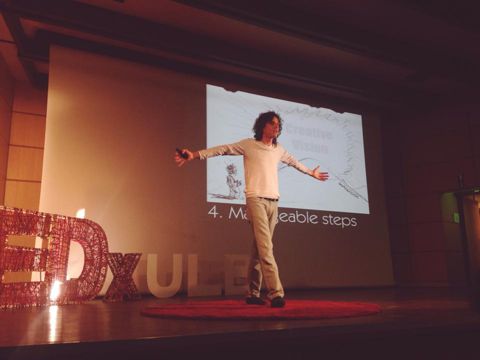 If you want your team to be developing and implementing more creative ideas; if you want your company to be a true innovator; if you want to be recognised as an innovative market leader, I can help you get there. You and your colleagues already have the potential. All you need is a creative eccentric, who truly understands the innovation process, to get you there.
Interested? Get in touch or read more about my specific services, including workshops, advisory services and keynotes.
---
I have written a book on designing an innovation process, a book on anticonventional thinking, a science fiction humour novel and a rewriting of Sherlock Holmes.
---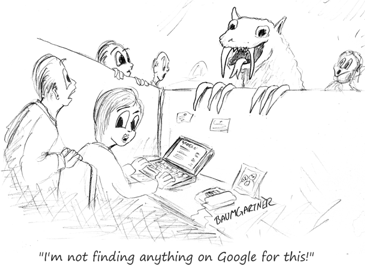 Report 103 is a twice monthly (or thereabouts) ejournal on creativity, imagination, ideas and innovation that provides articles you can use to boost creativity and innovation at your place of work. To subscribe, just pop your email in the form below and follow the instructions in the confirmation email.
---
Subscribe
---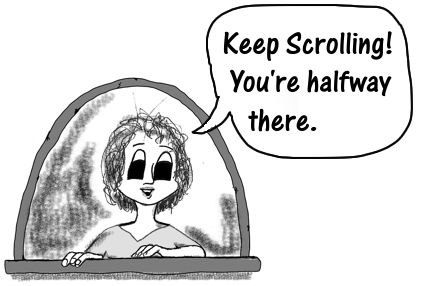 ---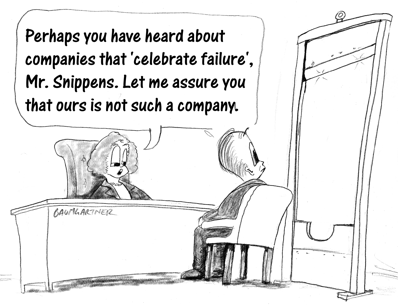 If you want to learn about creativity and innovation, this is the place to do it. Discover 100s of articles and papers on every aspect of the innovation process, from imagination to implementing complex innovations. As an added bonus, many articles include a cartoon that may not have you rolling on the floor with laughter, but ought to bring a smile to your face.
↓ The latest articles ↓
Ten Rules for Innovative Teams
Teams can drive innovation or they can stifle it. Advice for innovative leaders on how to manage innovative teams -- Read the article...

A Routine of Creativity
If organisations want creative employees developing innovative ideas, they need to establish a routine of creativity -- Read the article...

After your new product innovation
When you launch an innovative new product, it is no time to rest. You need to keep innovating. -- Read the article...

Solving Complex Problems
Business leaders and their teams frequently need to solve complex problems. Their best tool to do this is their imagination. -- Read the article...

Make People Care About Your Business
How and why to use creativity to make your customers care about you, your products and your business -- Read the article...

Don't Capture Ideas. Play With Them
Businesspeople focus on capturing ideas using unproven tools. They should play with ideas like children and artists instead. -- Read the article...

How I Taught My Son to Bake - And What You Can Learn from It
I taught my son to bake by letting him bake and make mistakes. You can do the same with your kids and your team. -- Read the article...

Imagination Is the Root of Innovation
Imagination is an under-appreciated, critical and magical element of innovation. Pity it is so neglected. -- Read the article...
---
Can't find what you're looking for?
---
Other Projects
I am the co-founder (with Andy Whittle) of the Imagination Club and actively manages the Brussels Imagination Club, a venue for experimentation in facilitation, training and life-long learning. Visit the web site...
I am launching, together with Roberta Cacciaglia, Imagination Video a creative video production company. Visit the web site...
I developed and edit AwesomeYou.Be, a self-improvement web site that helps people like you become even more awesome. Visit the web site...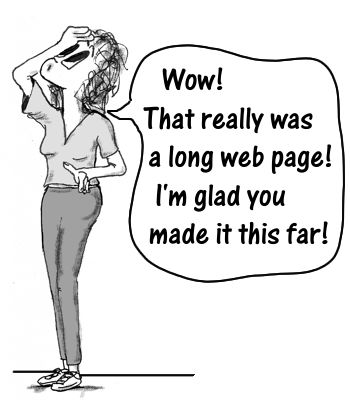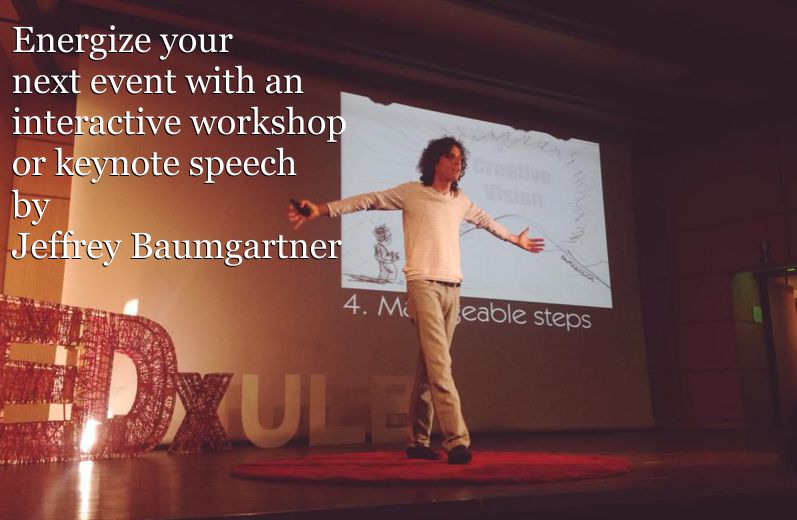 Jeffrey Paul Baumgartner
Erps-Kwerps (near Leuven & Brussels) Belgium
©1996-2016 Jeffrey Paul Baumgartner