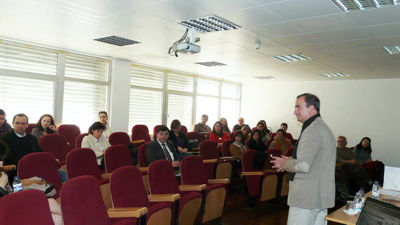 Training in CPS Without A Training Session?
By Fernando Cardoso de Sousa
President of the Portuguese Association for Creativity and Innovation - APGICO
This is my fourth article on the practice of creative problem solving (CPS) in Report 103 (you can read my previous article here). I am trying to bring different views to an approach that I value very much; just as I value those from whom I learned everything I know about CPS, mainly associated with Buffalo's Creative Problem Solving Institute.
In this article, I would like to reflect a little on learning CPS outside of CPS teaching. It seems odd but almost all my previous learning about CPS derived from training sessions, presentations, courses or readings and not practice. Moreover, I have done the same thing: taught the system in classes and seminars, wrote about it, made presentations, and the like. But I for a long time, I had never used it in a real situation. The first time I had to use CPS in a real world situation with a real problem and in a company environment, all my past training time, work done and multiple certifications, did not prevent me from feeling afraid to the bones.
As I have written previously, I concluded that previous training was not necessary for the team to use CPS in real situations. This is not original. Other researchers like Paul Paulus or Bruce Smith have written that one can train a team in divergent thinking in half an hour or even in no more than five minutes. Be it in half an hour or five minutes, how could I add training in a session where there was not even a second devoted to communicating more information other than the objective and some administrative requirements?
The truth is that you do not need to provide information if the team does it for you. But how can the team members teach each other something if they have no experience, and are not even aware that they have used CPS? You do not need to talk about CPS in order to learn about CPS. You just go through every step of the session and ask for opinions, feelings, thoughts and criticisms. First, ask for an overall opinion about the session, asking in particular about things that did not go well or were not understood. Do not ask about evaluations, unless you need them for your client. If this is the case, use a half page questionnaire after the session. Follow up with more detailed questions. Ask about the objective: "Did we start with the right objective, or were there more important ones to fit the situation?". At first the team will be silent. But, sooner or later, someone will start contributing. From then onwards, people will provide sound feedback. Next, proceed to problem definition: "What did you think at first when I asked for problems in attaining the objective?"; "Do you think it is important that all problems were accepted without criticisms?"; "Do you think we have chosen the best problem to work with?".
After about fifteen minutes, it is time to go to action planning: "Do you think these were the tasks needed to solve the problem?"; "What about the teams: do you think everybody will do what is required within the conditions defined?". And the last question: "Where did you see creativity in this whole process?" Should you respond to direct questions or are you supposed to provide information? Sorry but the answer is "no". You were not there to train but to help the team solving a problem. But you know the session would not be complete without helping people to make clear the processes that were used, so that they may do it better next time and learn from their experience.
Try to be a facilitator till the end. Teach by asking questions and by letting direct questions to ricochet to other participants.
There you have it. Just by using a simple debriefing technique, you can turn a non-teaching session into a first class learning opportunity. Moreover, you can do it in less than half an hour out of a typical four hour session.