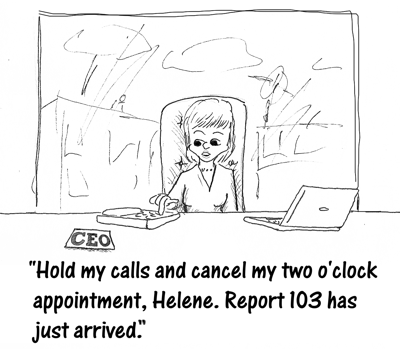 Report 103
The web's longest running creativity & innovation eJournal - Since 2004
Report 103 is a weekly eJournal about creativity, imagination, ideas and innovation in business that is read by some 9000 subscribers around the world. Every issue includes an informative article or two on business innovation, often including tips and techniques you can use in your place of work.
Report 103 is written for innovation leaders including CEOs, innovation directors, innovation managers, facilitators, consultants and researchers. Articles are based on the latest research and my experiences helping teams to think more creatively and their organisations to be more innovative.
Many articles that have appeared in Report 103 are posted in the Creativity Articles of this web site.
The Book
I am in the process of compiling a book to be called The Very Best of Report 103. Lear more about it here...
Sample issues
---
| | |
| --- | --- |
| Current issue | The latest issue of Report 103 - updated weekly |
| 27 Jan 2004 | The first ever issue of Report 103. |
| 18 Oct 2005 | My friend, Arthur VanGundy (who preferred to be called Andy) contributed a still popular article and download for this issue. Sadly, Andy died 2009. |
| 20 Oct 2009 | Aligning innovation to strategy |
| 20 Apr 2011 | This is when I first published my concept of anticonventional thinking (ACT) which caused a lot of controversy and still upsets people who do not like change in the field of creativity. ACT has been modified and updated twice since this article was published. |