ARE YOUR IDEAS AUDACIOUS ENOUGH?
In most business ideas, there is a direct correlation between how audacious and risky an idea is and its innovativeness and reward potential. Disruptive innovation – in other words, innovative ideas which disrupt industry and dramatically change a business sector – are inevitably audacious and highly risky. They are also highly innovative and, if they work as hoped, bring in huge rewards.
Consider Niklas Zennström and Janus Friis who developed their own voice over Internet protocol (VoIP) devised a business – Skype - around it and offered easy, free telephone calls over the World Wide Web as well as dirt cheap calls from the Web to ordinary telephones. Their business model was audacious: a couple of Swedish guys take on the world's telephone service providers; it was innovative; and it was risky. People might well have decided they were not ready for VoIP; they might not trust the system; or Internet Service Providers, who are often divisions of telecommunications companies offering telephony services, might have tried to prevent Skype calls. In which case, the two Swedish guys would have lost a lot of money.
In fact, Skype has taken off like a rocket. There are more than 100 million Skype users around the world and the two Swedish chaps sold their company to eBay for €1.9 billion (US$2.4 billion) and stand to make another €1.5 billion if certain targets are met. Not bad for an audacious idea.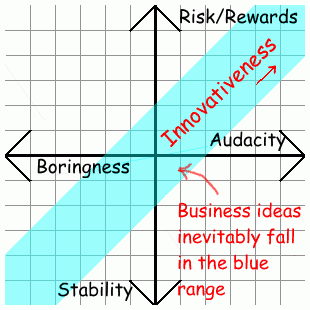 To visualise the importance of audaciousness in business innovation, look at the image above or imagine a simple graph with X and Y axis. The right end of the X axis is marked "Audacity", the left end is marked "Boringness". The top of the Y axis is labelled "Risk/Rewards". The bottom is labelled "Stability". Next, draw a narrow diagonal bar from the bottom left corner of the graph to the upper right corner. This bar represents the range where most business ideas fall. Audacious business ideas are risky yet innovative. Boring business ideas are safe and not very risky. But they do not bring high rewards. Most business ideas, of course, tend to fall near the axis.
There are several useful things we can learn from this chart.
Although we in Europe and America tend to favour highly innovative ideas, it is clear that a handful of boring business ideas resulting in incremental innovation can also bring benefits to your organisation. Thus, you should not focus all your innovative efforts on big, disruptive innovation. You should also devote resources on capturing smaller, moderately innovative ideas and implementing them on a steady basis. A combination of occasional radical innovation and regular incremental innovation is the best balance.

As I have stated many times before. Many companies have an overly strict idea review process that requires every idea pass a number of hurdles and committees before it is implemented. Very often these committees attempt to reduce the risk of the idea. That's understandable, they want to protect the company against risk. Often they want to protect their own jobs by not authorising a risky idea. Unfortunately, they are wrong. By reducing risk, they are also making an idea more boring, less innovative and reducing the potential reward.

Conversely, an idea can often be pushed to be more audacious, thus increasing its reward potential – but also its risk. Bear this in mind the next time you brainstorm ideas. When you get a few good ideas, don't stop there. Push the best ideas further. Actively try to make them more audacious.

If an idea is very boring and of low risk, its reward potential is also low. Thus you need to be certain that the cost of implementing the idea will not be greater than the rewards it brings in.
So, the next time you have a business idea, go on and be audacious. Push the idea to the limits and don't be afraid to run with it. That's how the best ideas turn into major innovations.
---
Based on an article (by Jeffrey Baumgartner) published in Report103, 2 March 2004 issue
© 2004 Jeffrey Baumgartner
Want to Discuss This With Me?
If so, get in touch. I'd love to chat about it with you!
---
If you enjoyed this article, please share it with your followers:
---
---
More Articles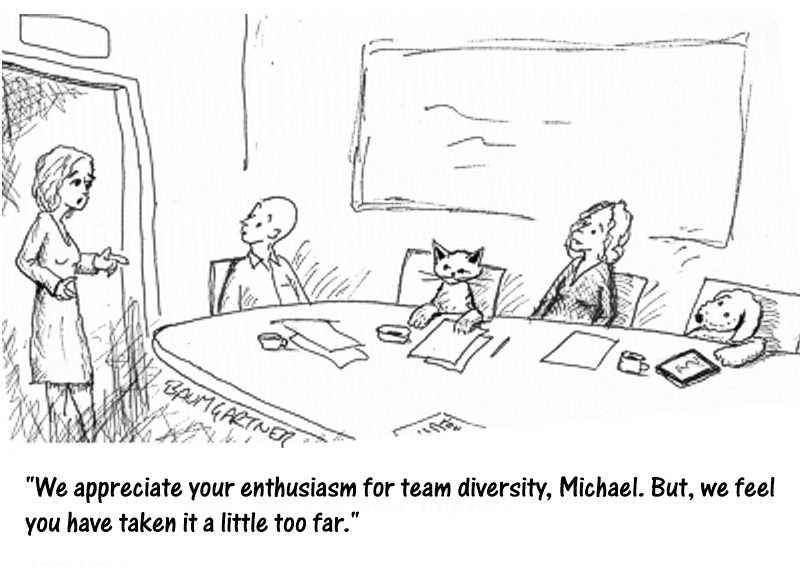 Leading Diverse Teams
Diverse teams are more innovative and smarter than homogeneous ones. But, they are also harder to manager. Here are some tips. -- Read the article...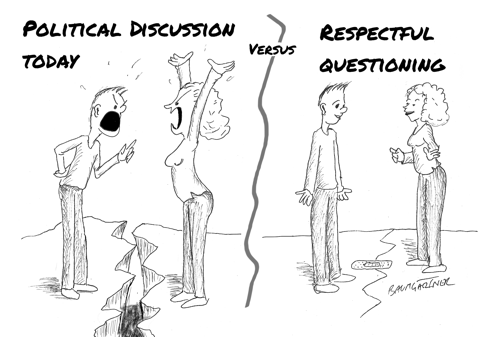 Respectful Questioning
Political and social debate has become too divisive. To find creative solutions to big problems, we need an alternative: respectful questioning -- Read the article...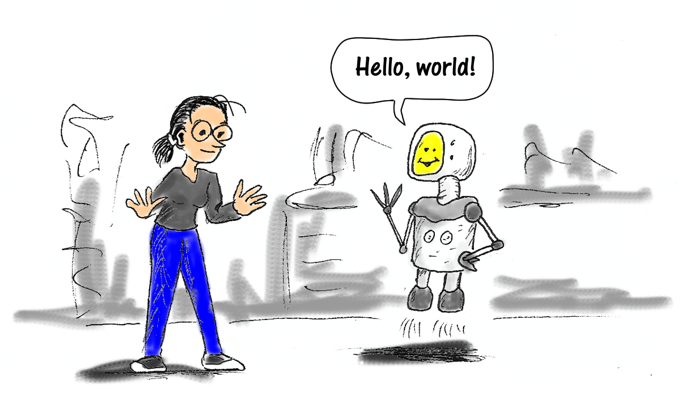 Questions you should ask when an innovative project fails
You can learn a lot from the failure of an innovative project, but you need to ask the right questions. Here are those questions. -- Read the article...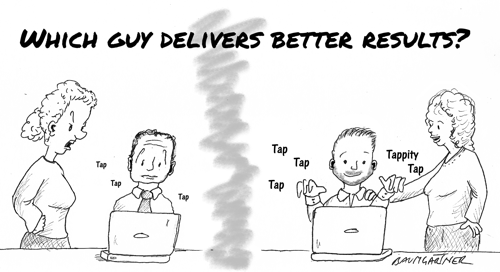 Business Should Be More Fun
Make your business more fun and see improved creativity, more innovation, reduced stress and more benefits. Here's how to do it. -- Read the article...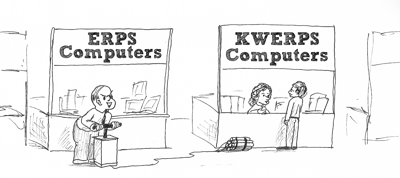 Unmarketing the Competition
A look at creative, but unethical dirty trick marketing campaigns designed to damage the competition -- Read the article...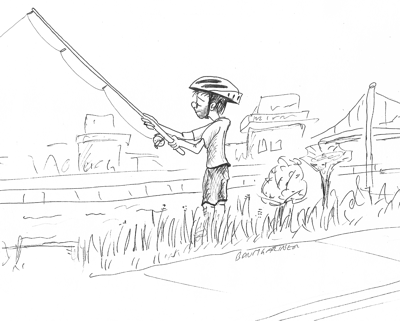 Imaginativefulness and the Fisherman
What does a fisherman wearing a cycling helmet have to do with imaginativefulness? Quite a lot, it seems. -- Read the article...
---