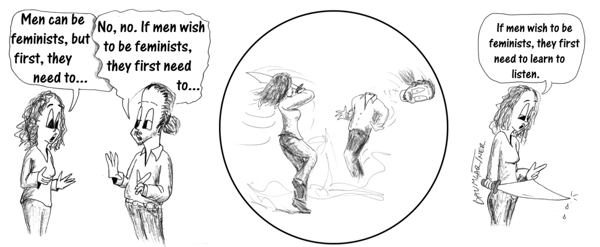 The Right Way to Exploit Women
By Jeffrey Baumgartner
When I was a child, most of my friends' mothers were housewives. Today, most of my mother friends are in the workforce. The number of women working for companies, governments, non-profits and themselves has grown tremendously in recent years and that is a good thing. Unfortunately, many organisations fail to exploit their female employees and that is not a good thing.
Exploiting women on the workforce is a great way to boost innovation and profitability. Here's what companies should be doing and why.
Listen to Women
A wealth of research has shown that women speak less than men in meetings, are more likely than men to be interrupted and are less likely than men to have their ideas recognised. Apparently, a commonplace meeting scenario is this: a woman suggests an idea. As she is explaining it, a man interrupts her, rephrases her idea and gets credit for having the idea. Stop and think for a moment about what is happening here. A woman has an idea and while she is expressing it, a man rudely interrupts her and steals her idea and he is praised for his rudeness and intellectual theft. The originator of the idea is ignored.
Most women soon work out that speaking up in meetings is a waste of time and leave it to the men to work out their own ideas. The result, of course, is that companies that do hire women fail to tap into the diversity of thinking, interpretation and creativity that they offer and, instead, limit themselves to man-thinking while leaving women feeling undervalued and even more bored than they should be in meetings.
What can you do about it? An age old, but effective, technique is to use a talking stick which can, in fact, be a stick or it can be any easily holdable object such as a stone or a toy. Then make it a strict rule that ONLY the person holding the talking stick is permitted to talk. When she is finished speaking, she hands the stick to another person who can develop the first person's ideas or ask questions or move onto something else.
It is imperative that this rule is enforced. I have seen scenarios where talking sticks are used, but ignored and men (and, to be fair, women) regularly interrupt each other. I suggest also having a rubber chicken on the conference table. If a woman is talking and a man interrupts her, the woman or anyone else is permitted to whack the interrupting man on the head with the rubber chicken.
While this structure is fine for meetings, it does not work for informal conversations that innovative offices are meant to be encouraging. As a manager, you need to listen to the women and men in your company and praise ideas wherever they come from. But, pay attention to people who interrupt others and call them out on it. In particular, notice when people steal ideas. "John, thanks very much for restating Elizabeth's suggestion, but I feel she has been doing a fine job of explaining herself. Please let her continue."
Not only is this fair, but logically encouraging the originator of an idea is more likely to lead to further creativity and innovation than encouraging the thief of the idea.
Incidentally, it seems female managers are nearly as bad as the male variety at allowing men to interrupt women and then crediting the men.
Promote Women
Did you know that companies that have women on the board of directors outperform companies that do not? A survey by Grant Thornton claims that the lost opportunity cost of not having women on the board is US$567 billion in the USA alone while a survey from Credit Suisse found that:
Where there is one female in the boardroom, companies have seen an average ROE of 14.1% (sector adjusted) since 2005 compared to 11.2% for all male boards. The nine year average P/B for boards with women directors has been 2.3x vs 1.8x for all male boards. In terms of share price appreciation, companies over $10bn market capitalisation with one female director have outperformed male only teams by 40% since the start of 2006. This is a compound excess return of 3.8% annually.
Now, we have to be careful here. Correlation does not equal causation; it would be an oversimplification to say that adding women to the board of any company will automatically result in increased revenues. It may be that more innovative companies, for example, are more likely to be more progressive and one sign of being progressive is having women on the board. Thus it could be the progressiveness of the companies that leads both to profitability and having women on the board. On the other hand, having women on the board might be the cause of the profitability. We do not know.
Nevertheless, having women on the board of directors and in top management in your company can only be a good thing. It will probably lead to greater income. It will certainly lead to diversity of thinking at the top and it will probably make your company a more woman friendly one. In other words, you cannot lose by promoting women to the top − and you will almost certainly gain.
Mentor Women
Most business leaders credit having mentors as a critical ingredient to their success. So, if there are promising women in your organisation, you should be prepared to mentor them. If you are a woman, this should not be an issue. However, research indicates that senior men can be reluctant to mentor younger women in fear that they might be accused of sexual impropriety.
The solution to this is simple. Do mentor promising young woman and do not do anything that even smells of impropriety.
Respect Women
Unfortunately, women seem to suffer from harassment in general and sexual harassment in particular. Worse, it is likely to be your best woman who face the worst difficulties from insecure men who feel threatened by powerful women.
There are three things you should do about this. Firstly, just be aware that sexual harassment is likely to be an issue from time to time. Ignoring it, pretending it does not exist or blaming the victim will not make harassment disappear. Quite the opposite. It will create an environment that fosters harassment.
Secondly, you should have a system for reporting and dealing with harassment of all kinds. In particular, ensure the system allows a woman − or, indeed, a man − to go around her manager of direct report in order to make a complaint. It is all too often male managers who abuse women on their teams. However, harassment is not limited to men abusing women. Men can harass each other as can women sexually or otherwise. Insecure managers often try to use their hierarchal power to protect them from consequences of their misbehaviour. You cannot allow this. Take all reports seriously. All of them.
Thirdly, never, ever blame the victim for sexual harassment. It is all to easy for men to blame women victims for being harassed because they are wearing clothes that show too much leg or too much cleavage or just make them look attractive. But, blaming someone for being sexually harassed like a car thief blaming your BMW for being too sexy not to steal. Under the circumstances, I doubt you would say: "You're right. I am sorry I tempted you with my BMW. You can have it, of course. I will be more careful in the future."
Partner with Women
You should partner with women − in a business context, of course. A study by Dow Jones in 2012 found that venture backed start ups with women on the team were more likely to succeed than companies that did not include women on the team. So, if you are a man looking for a partner for a start up, look for a competent woman. This simple action will improve your chances of success. Unfortunately, this report did not look at woman only founding teams. Nevertheless, I would guess that mixed teams are better.
Likewise, in my experience teams that include both men and women are more creative than teams of men only. As a man, I have no experience of being on women only teams, of course. But I suspect that mixed teams are the best for diversity of thinking.
On last observation
When teams have a lot of younger people on them, I find that young mothers are great team leaders! I suspect motherhood forces responsibility, time management and patience on new mothers whether they like it or not. So, when a woman requests maternity leave, do not think of it as her shirking her responsibility to you in order to selfishly have a family. Think of it as leadership training of the most intensive kind!
Further reading
How Not to Be 'Manterrupted' in Meetings Jessica Bennett
Why men are prone to interrupting women by Alice Robb
Sex Roles, Interruptions and Silences is Conversation by Don H Zimmerman and Candace West pdf of seminal 1975 research paper.
Women Executives Make Venture-Backed Companies More Successful: Study by Deborah Gage
Want to Discuss This With Me?
If so, get in touch. I'd love to chat about it with you!
---
If you enjoyed this article, please share it with your followers:
---
---
More Personal Innovation Articles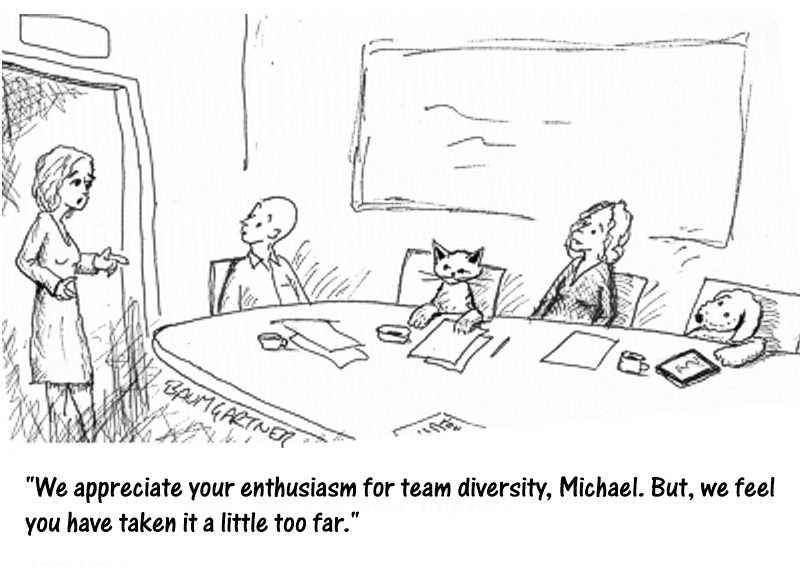 Leading Diverse Teams
Diverse teams are more innovative and smarter than homogeneous ones. But, they are also harder to manager. Here are some tips. -- Read the article...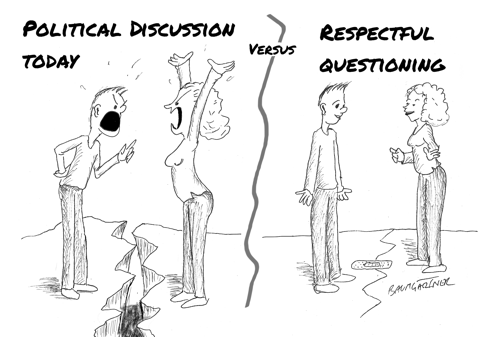 Respectful Questioning
Political and social debate has become too divisive. To find creative solutions to big problems, we need an alternative: respectful questioning -- Read the article...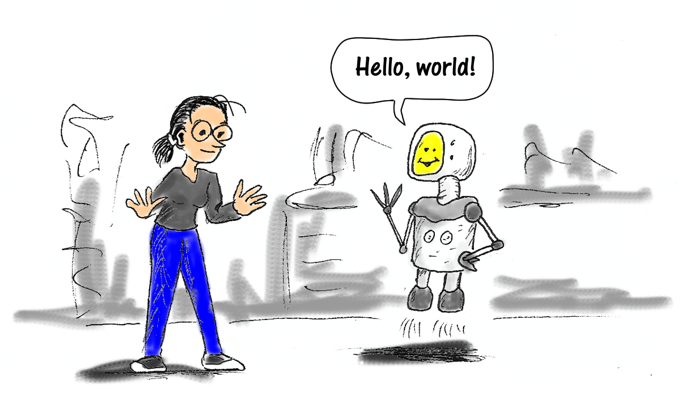 Questions you should ask when an innovative project fails
You can learn a lot from the failure of an innovative project, but you need to ask the right questions. Here are those questions. -- Read the article...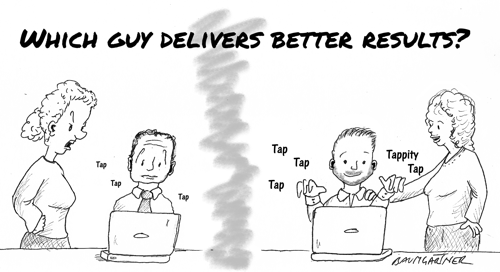 Business Should Be More Fun
Make your business more fun and see improved creativity, more innovation, reduced stress and more benefits. Here's how to do it. -- Read the article...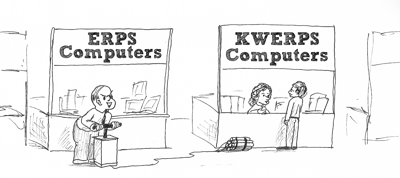 Unmarketing the Competition
A look at creative, but unethical dirty trick marketing campaigns designed to damage the competition -- Read the article...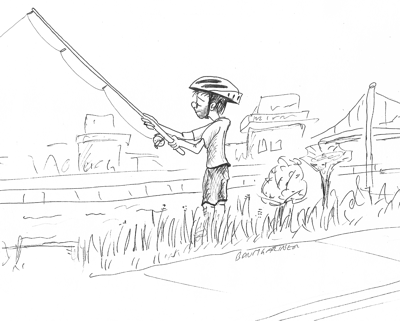 Imaginativefulness and the Fisherman
What does a fisherman wearing a cycling helmet have to do with imaginativefulness? Quite a lot, it seems. -- Read the article...
---