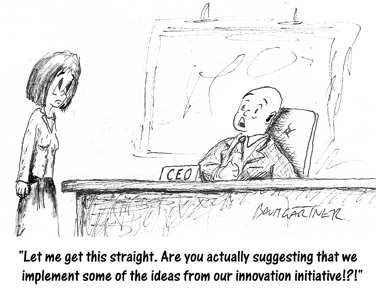 Quick Introduction to Business Innovation
Business innovation is the implementation of creative ideas in order to generate value usually in the form of increased revenues, reduced operational costs or a combination of both. However, it can also include other values such as increased environmental sustainability, better relations with local communities and better employee well-being.
Here are a couple of articles to get started on business innovation
The Corporate Innovation Machine
This article was written in 2005 and chunks of it are out of date - especially with regards to idea generation. Nevertheless, it remains a popular article and provides a good overview of a corporate innovation process. In addition to the article you can download a more detailed white paper -- Read the article...
Seven Things the Competent Innovation Manager Should Know
This article has received a wealth of positive feedback. If you've recently been put in charge of innovation, you will probably find it informative and useful -- Read the article...
Innovation vs. Vision
Innovation needs to be in line with corporate vision, otherwise it is a waste of time and effort. Learn why. -- Read more...