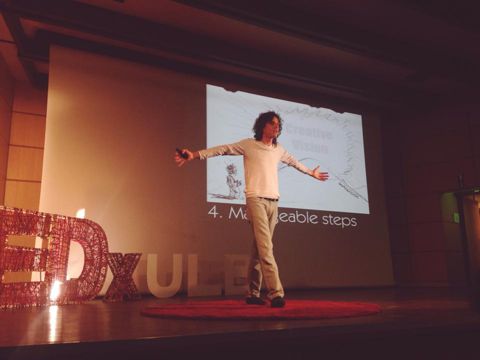 Workshop: How to Facilitate Awesome Creativity Workshops
Brussels - 11 April 2016

If you ever need to run workshops to solve problems, generate ideas, plan or train people, this workshop is for you. Ideal for innovation managers, senior trainers, consultants and managers who need to run top-notch, dynamic and interactive workshops.
What you'll learn in this workshop
How and why to design a workshop.
The importance of structure.
Great warm up exercises.
Why seven seconds, twenty minutes and groups of three are critical to a successful workshop.
Why you need to mix talk, individual exercises and group exercises and how to do it.
Planning hands-on exercises for individuals and teams.
How to put people into diverse teams to work on exercises.
New creative thinking techniques including anticonventional thinking, non-verbal idea building and role-play.
Why traditional brainstorming is a waste of time.
How to deal with trouble-makers.
Dealing with multinational groups.
Wrapping up a workshop.
Answers to any questions you might have.
Structure
This workshop will combine short explanation of techniques, examples, open discussion and lots of individual and group exercises. You will not simply listen to me talk while looking at PowerPoint slides. You'll actually experiment with techniques. So, wear comfortable clothes and prepare to have a creatively enlightening experience.
Jeffrey Baumgartner
I have led creativity, innovation and training workshops with businesses, government agencies, non-profits and academics in Europe, America, Asia, Africa and the Middle East. Participants have included top management, senior management and specialists. I am the co-founder and co-manager of the Brussels Imagination Club, a group dedicated to experimentation in life-long learning and training. I am also the author of two books on creativity and innovation as well as a novel that critics have described as exceptionally creative.
In short, I know a lot about designing and running creative workshops. And I am looking forward to passing on that knowledge to you.
Venue
The workshop will be held in the Innovation Room at Transforma BXL, a new co-working space and innovation lab in the Evere area of Brussels. Transforma offers convenient parking and access to public transportation to central Brussels and the airport. The Hotel Mercure Brussels Airport hotel is just a few hundred metres down the road should you need overnight accommodation.
Address: Transforma BXL, Jules Bordetlaan 13, 1140 Brussels, Belgium
Brussels
Brussels is within a 2.5 hour train or car journey from London, Amsterdam, Rotterdam, Den Hague, Paris, Cologne and Antwerp. Brussels airport has regular flights to most major cities in the world.
Cost
The cost of the one day workshop is €850 (excluding VAT)
Special offers
Book before 12 March and pay only €650 (excluding VAT)
Notes
Fee includes workshop, workshop materials, coffee breaks and lunch.
Fee does not include VAT.
Cancellations prior to 16 March receive a full refund. Thereafter, no refunds may be given.
You may elect someone else to come in your place.
Book your place
Register via EventBrite to pay with credit card; or
Contact us to arrange a bank transfer.
Questions?