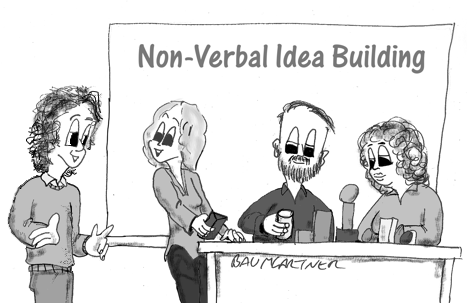 Workshop/Keynote: Developing New Product and Service Ideas
Do you need to develop new products or services? Do you need to update existing products in a competitive market? Is your product lost in a crowd of similar, if inferior, products? Are you concerned that an unexpected start-up will come along with a radical new product or service that makes yours obsolete (as Uber has done to the taxi industry, for example)?
If you answered yes to any of these questions, don't worry. I can help you solve all of these problems and ensure that your competitors are more worried about you than the other way around.
With over a dozen years of experience helping companies innovate and teams think more creatively, I know more than most about how to devise and develop new ideas. Moreover, as an artist and author, I have a creative mind and an outsider's perspective that can help push you and your team in new directions of thinking. And that can only help you innovate better.
What you get from the workshop
In this workshop, you develop a creative concept for a new product or service together with the first steps you need to take in order to realise it. At the same time, you learn how to use proven creative thinking and collaboration techniques for future new products, services and product improvements. You'll be so innovative, your competitors won't know what hit them!
You will learn
In this workshop (or keynote), you learn...
Creative thinking techniques that really work.
Which popular creative thinking methods are a waste of time.
Why restrictions are good for creativity.
Why asking your customers for ideas is bad for creativity.
How to map out a development plan that works.
What kind of outsiders are most able to help you get innovative.
How to sell your ideas.
And more.
Tailored to your needs
Like all of my workshops, this one will be tailored to meet your situation, needs and goals. I do not use off-the-shelf or prepared workshops. Every workshop or keynote is uniquely designed for the client.
Workshop/keynote options
Keynote
If you have limited time or want me to work with a big audience, such as at an annual meeting, a 20-60 minute keynote speech is best. A keynote speech covers the main points but includes little or no interactivity. It is best suited for groups of 50 or more. I have worked with audiences of 1000s.
Half day workshop
A half day workshop is sufficient for covering the material and doing exercises to start developing ideas. Although a final concept may not be developed in a half day workshop, you will have the tools to develop your ideas further.
Full day workshop
A full day workshop provides more time to cover the material, do the exercises and develop ideas further.
1½ to 2 day workshop
A one and a half or two day workshop is ideal. It provides more time for building ideas and outlining a development plan. Moreover, in my experience, participants often have insightful ideas after the first day of the workshop (and especially when they wake up in the morning). These ideas can be explored and developed on second day.
Off-site workshops are strongly preferred
I highly recommend that we organise this workshop off-site. In my experience, people relax more and get far more creative when they are away from the office. Moreover, there are fewer distractions. If you would like an off-site workshop in an inspiring environment, but do not want to bother with organising a location, do not worry. I can help identify the right place and place the bookings.
Combine a keynote and a workshop
If you've got a big event coming up, why not combine a keynote talk for the event and a separate workshop for 20-30 people involved in product development and marketing? You get a big discount in the combined fees and that translates to more value for your budget.
It all starts with a conversation
If you are interested in developing bold, innovative new products, let's talk about a keynote or workshop that will get you there.