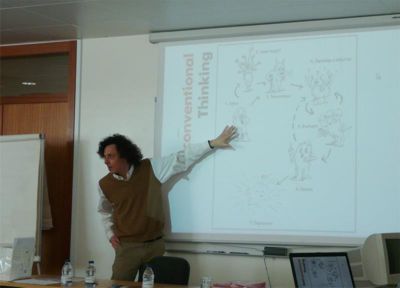 How to Run a Successful Innovation Initiative - for Innovation Teams
If you and your team manage a corporate innovation initiative, this workshop is for you. You will learn how to get more innovative ideas (in terms of quality and quantity), how to develop them into innovation projects, how to ensure more ideas are implemented and how to measure result. We can also work on establishing concrete processes that enable your innovation to run more smoothly.
Structure
The workshop will combine explanations, open discussion, individual exercises and team exercises. You will not simply be instructed, you will also try out the things I teach you.
Workshop Options
This workshop is ideally delivered as a one day workshop if you wish to focus on learning or a two day workshop if you wish to collaboratively develop processes for your initiative.
Next Step: Let's Talk
If you are at all interested in this workshop or want more information, then let's talk. Follow this link to contact me.
What people say about my work
"Your perspectives are very enlightening... In an ocean of not-so-useful info about innovation, you manage to get the perls on a regular basis."
Ericsson

"An energetic & stimulating speech on the future of creative idea generation!!"
Organisers of TEDxULB


"This is one of the best workshops we have ever organised. It is highly intellectual, splendid with extraordinary resources and activism. We really appreciate your remarkable efforts, exemplary cooperation, humble attitude and excellent interaction with our team."
Almajdouie
A Saudi Arabian Conglomerate

"I could not be more pleased with the final result. In spite of the fact that the workshop participants were people who, I think, would never try to participate in an event devoted to creativity - company and university top managers - Jeffrey made them enjoy creative thinking and produce a result that, if implemented, will give origin to many improvements in the Algarve region."
APGICO
Portuguese Association for
Creativity and Innovation

"When I walked in the room and saw the projector, I thought 'oh no, another boring presentation from [top five consultancy firm]!' I was delighted that in fact it was an interactive workshop where we actually applied anticonventional thinking. Very refreshing"
Philip Morris International

"Thank you for sharing your ideas and insights and good energy with all us creative folks round the world."
Washington State Government

"I woke up the next morning just bursting with ideas!"
The European Commission

In addition to the above, I have also worked with the Government of Dubai, the Algarve region of Portugal, the European Commission, Indian Institute of Technology, TE Connectivity, Afton Chemicals, Genentech, Frito-Lay, Sirris, Dexia Bank, Transearch, Southeast Water, Eyes & Ears of Europe; and have spoken at conferences including the World Innovation Convention, eSummit Mumbai, South African Innovation Summit, European Conference on Creativity and Innovation, TEDx and the Brussels Imagination Club (which I co-founded).
Next Step: Let's Talk
If you are at all interested in this workshop or want more information, then let's talk. Follow this link to contact me.