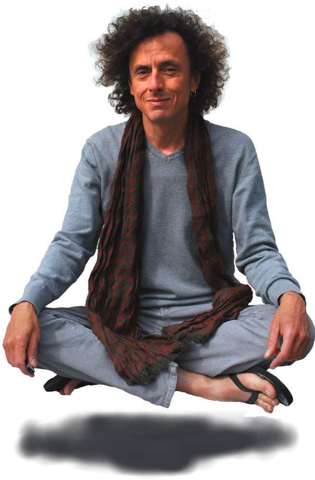 About Jeffrey Paul Baumgartner
Not your typical, corporate innovation consultant
Jeffrey has led an eclectic, international life rich in experience, including...
An honours degree in fine arts (specialising in sculpture) in London.
Being an artist.
Certification to teach English as a foreign language.
Teaching in several countries.
Setting up three companies on two continents.
Reinventing two of those businesses.
Writing regular columns for two leading Asian magazines.
Launching one of Thailand's first Internet companies.
Conceiving and overseeing the development of many companies' first web sites.
Overseeing the development of the first original Thai language CD-ROM.
Successfully marketing small businesses on-line in the mid 90s.
Advising the European Commission on promoting e-commerce to small and medium sized businesses.
Being an e-business consultant.
Inventing Jenni innovation process management software.
Launching the Brussels Imagination Club (together with Andy Whittle).
Writing the book The Way of the Innovation Master.
Writing the novel The Insane Journey
Writing the longest running eJournal or blog on creativity and innovation in business: Report 103
Speaking at major conferences about innovation and creativity.
Inventing a new, effective creative thinking method: Anticonventional Thinking (ACT)
Delivering ACT workshops to businesses, non-profits and government bodies on four continents.
Writing a book on ACT, titled: Anticonventional Thinking
And more. More than he can remember actually.
Note: unlike your average consultant, Jeffrey's experience does not include:
An MBA
Previous employment at IBM
Regular haircuts
Please bear this in mind if these things are important to you in a consultant/facilitator/speaker.
Jeffrey has worked with organisations as diverse as Toyota, Yamaha, Canon, PepsiCo, Genentech, TE, Afton Chemical, Chemtura, The Nation Publishing Group, Coldwell Banker, Business Venture Promotion, Thai Danu Bank, Southeast Water, Powercor, Dexia, The European Commission, the government of Dubai and many more, big and small. He has worked and lived in the USA, UK, Portugal, Germany, Thailand and Belgium.
These days, Jeffrey writes books and articles on anticonventional thinking, creativity and business innovation. He also travels internationally to deliver talks and workshops on anticonventional thinking and other aspects of business innovation. He has recently started researching and writing on personal innovation.
Jeffrey's Publications
"Open Innovation for Small Companies", article in Management Today magazine, July 2011 (Link to on-line version here)

"Use Both Sides of Your Brain", article in Innov8t Magazine, May 2011 (Link to on-line version here)

Report 103, web based journal on business creativity and innovation, 2004-present.

"The Corporate Innovation Machine", Chapter in Ideas, Creativity and Innovation, Edited by P.S. Gopalakrishnan, ICFAI Press, 2008

"Innovation in the Service Industries", Chapter in Innovation in the Services Sector, Book edited by Simantee Sen, ICFAI Press, 2008

"Innovation in the Service Industries" Article in Effective Executive magazine, November 2006

Don't Panic Do E-commerce – a Beginner's Guide to European Law Affecting E-commerce, (Book) (co-author), European Commission Press, 2001

Ask Dr. Ecommerce -- an e-commerce advice web resource, 1999-2001 (see archived version here)

Monthly business advice column in Business Review magazine, 1992-1996

Monthly business astrology column in Business Review magazine, 1994-1996

Fortnightly personality quiz column in Nation Junior magazine, 1992-1996